Start a Toastmasters Club
Could your workforce use a refresh? Today's forward-thinking companies see great value in developing and improving employee soft skills, including oral communication, listening/presenting, and time management. Toastmasters International offers a low-cost, self-run program, expertly designed to augment your existing training programs and elevate your employees' soft skills, which, in turn, will heighten their job performance and job satisfaction.
The magic begins at Toastmasters meetings, which typically last an hour and provide leadership and public speaking opportunities. By using the skills learned in Pathways, Toastmasters' core education program, combined with extensive practice and feedback, your employees will bolster their communication, leadership, and public speaking skills. You can transform your workplace and empower employees with the help of Toastmasters!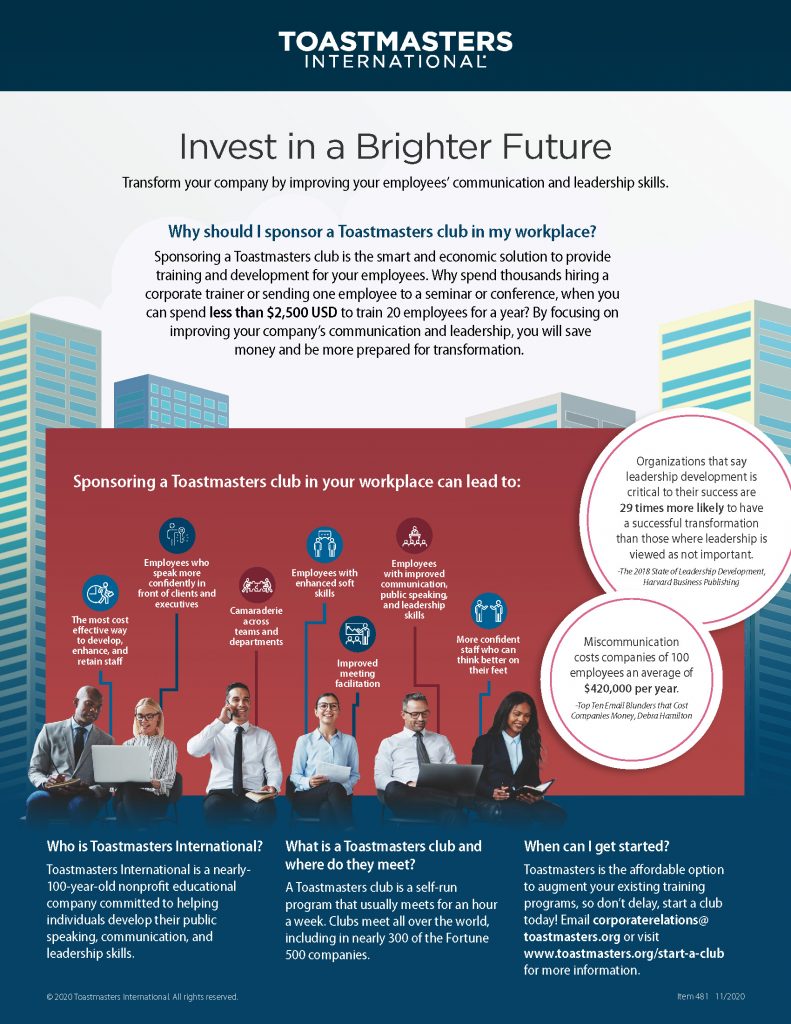 Toastmasters' corporate clubs provide an in-house opportunity for employees to develop their leadership and communication skills. As a result of sponsoring a club, companies benefit from better leaders, more effective managers, closer-knit teams and higher productivity.
Several corporations, universities, and churches in the eastern Missouri/southwestern Illinois region are benefiting from in-house Toastmasters clubs, including:
Aetna
Anheuser-Busch
Ascension Health
BCBS of Illinois
Boeing
Centene
Cisco
Edward Jones
Enterprise Leasing
Express Scripts
Horace Mann
RGA (Reinsurance Group of America
Mastercard
Missouri Athletic Club (MAC)
Moneta
Purina Mills
Rabo AgriFinance
Shelter Insurance
Wells Fargo
Lewis and Clark College
St. Louis University
UMSL
Washington University
District 8 Toastmasters would be happy to help you open a customized Toastmasters club for your organization as well. Please click on "Start a Club Request" and let us know how to get in touch with you.